Commentary: Give Charleston's Nature a Chance for Climate Resilience
By David Farren
(This blog is re-posted from The Charleston Post & Courier)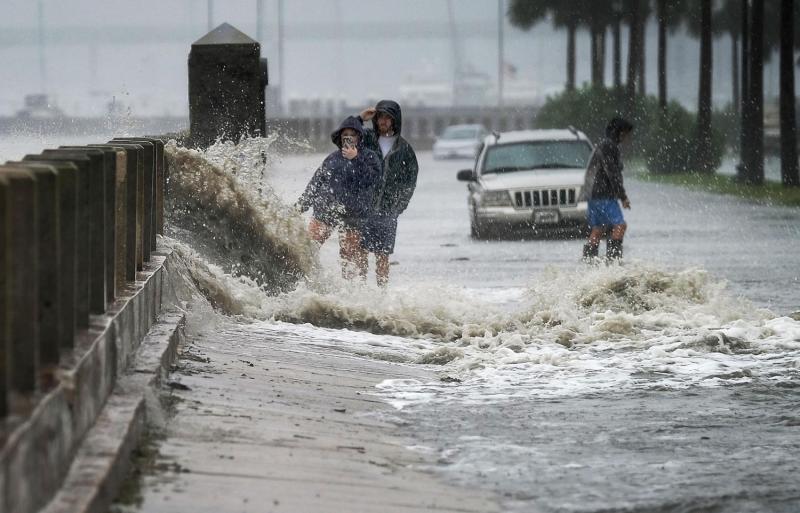 Water floods the Low Battery during Tropical Storm Irma on September 11, 2017. File/Matthew Fortner/Staff
Are we ready for a really frank conversation about climate change impacts in the Lowcountry?
Many of us have seen those doom-and-gloom sea level rise projections, but the real-life scenarios are already the new normal here, in a region where many of us live less than 10 feet above sea level. It's not just the "hundred year storms" that are now occurring every 16 years, or the extreme hurricane activity each of the past four years that tells us it's real. It's also the nuisance "sunny day" flooding, up to 50 days last year, that will be more than 100 days per year two decades from now.
In fact, Charleston ranks as one of the 20 most climate-vulnerable metro regions in the entire world — step aside Conde Nast!
With the Charleston region's economy currently the 16th fastest growing in the country, our mobility, our property values, our commercial activity and, ultimately, our tax revenue are all at extreme risk if we don't take action. It's time to move beyond the studies, commissions and community forums and implement scientifically sound, nature-based solutions that will help protect our communities into the future.
Recently, the Gaylord and Dorothy Donnelley Foundation sponsored a gathering of 100 regional conservation leaders to look at some real strategies that we can begin to incorporate before it's too late. Policy experts and community leaders from up and down the Atlantic Seaboard discussed a range of approaches working with nature to protect our communities and economic future. We quickly learned that Miami and Norfolk are well ahead of us in taking action. With recent polling showing that far more of  South Carolina's citizens are in the "concerned" or "alarmed" category than the climate change "deniers" camp (a vocal 10%), now is the time to demand that our local and state officials work with business and community leaders on solutions.
Here are three key, practical action steps we identified:
Safeguard our wetlands. We are still blessed in the Lowcountry with abundant saltwater marsh and freshwater wetlands connected to our rivers and streams, which serve as giant sponges to soak up floodwaters. We must protect this critical resource from indiscriminate development that "digs our hole deeper," puts people in harm's way and blocks wetland migration corridors as seas rise. While counterintuitive, armoring our shorelines is only going to make matters worse. Thousands more citizens could have been impacted on our northern coast in the wake of Hurricane Florence if not for the conserved wetlands along the Waccamaw and Pee Dee Rivers. Because our president is proposing to expand existing federal loopholes, local action is even more imperative.
Stop subsidizing development in vulnerable areas. It's time to take a closer look at local plans for new roads and utility extensions, and give up on the "legacy projects" that encourage people to move in harm's way, ultimately requiring expensive public bailouts. Instead, let's encourage development on higher ground along existing transportation spines. Community leaders need to get real about improvements, including transit, along these corridors, which will encourage denser, mixed-use development, a hallmark of effective planning in livable urban areas. Political will to shift funding priorities will take both courage and foresight.
Solve affordable housing. While this may not seem like a climate strategy, too often the most vulnerable communities with the least resources pay the biggest price both environmentally and economically. In Miami, "climate gentrification" is already displacing low-income residents and communities of color on higher ground. We must solve our affordable housing crisis before things get even worse. For those in repetitive loss areas, buyouts before, rather than after, the next storm can be encouraged. The FEMA flood insurance program must be applied equitably to serve all segments of our community, not just those who can more readily absorb the loss. As with natural systems, healthy economies and vital communities require diversity to be sustainable.
The biggest takeaway is we can't wait. The real threat is not the next hurricane but our collective inaction. Let's learn from our coastal neighbors and begin to work with nature to make our communities more healthy, prosperous and equitable.
David Farren is executive director of the Gaylord and Dorothy Donnelley Foundation, which for 65 years has supported land conservation, artistic vitality and museum and library collections in Chicago and the Lowcountry.