On Earth Day, Preparing to Forge Ahead
By Rachel Leon, Executive Director, EGA
There is no better inspiration in the lead-up to Earth Day than listening to a wise woman. On Friday, I was blessed to start my day at an event organized by WE-ACT and co-sponsored by Rockefeller Brothers Fund and Jesse Smith Noyes Foundation.
Dr. Dorceta Taylor, Professor and Director of Diversity, Equity and Inclusion at the University of Michigan School of Natural Resources & Environment, was the special guest. As you may know, we have been proud to partner with Dr. Taylor on our Environmental Fellows Program – for which the second cohort of 21 fellows will start their summer fellowships in just a few weeks.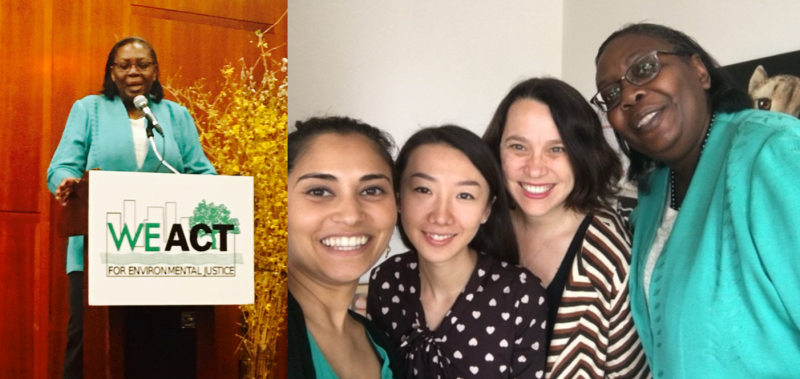 Dr. Taylor and I have been working closely together for nearly two years now, but what I experienced with my EGA team last week was an even deeper connection to the significance of Earth Day, to our shared values and work, and to opening our hearts and minds to an exploration of the conservation movement.
Maybe it is the moment we are in, or the recent and approaching national rallies. Maybe it's, as Dr. Martin Luther King, Jr. described it in a famous April 1967 speech at Manhattan's Riverside Church (next-door to EGA offices), the "fierce urgency of now". Maybe it was hearing the passion of Dr. Taylor, and further understanding the significant role she has played in enabling a new generation of changemakers. Maybe I just needed a dose of hope and truth to face what lies ahead. Whatever it was, we felt it in the room.
The audience was diverse in every way, including seasoned activists and millennials starting anew. Dr. Taylor shared incredible stories with us - both from her life and her book, The Rise of the American Conservation Movement: Power, Privilege, and Environmental Protection.
In doing so, she took us on a historical journey that looked back to earliest days of conservation, and then seamlessly made connections to challenges of today. She referenced similarities in the documented coarseness of Andrew Jackson and President Trump, and unpacked myths about many environmental heroes. Together, we explored how cycles of ugly language and mistreatment throughout American history - be it directed towards Native Americans, slaves, women, immigrants – continues to be repeated.
In closing, Dr. Taylor stressed the need to build bridges across race, class and gender - something we look forward to translating into action with our special community here at EGA. We can only move forward when we are able to take risks with new and different allies, and embrace feeling uncomfortable.
And with this understanding, I saw a glimpse of the future, and gained a better sense of our imperfect history. It left me inspired, and ready to forge ahead with a full heart.