Northeast Energy Program Lifting Economies and Lowering Emissions
By Mariella Puerto, Senior Program Officer, Climate at the Barr Foundation. This article first appeared on the Barr Foundation's Blog.
A $1.3 billion boost to their economies. 14,000 new jobs. $460 million in savings from lower electricity and heating bills. According to a new report by The Analysis Group, an economic research firm, these are among the benefits enjoyed by the nine Northeast states that participated in the Regional Greenhouse Gas Initiative (RGGI) from 2012-2014.
RGGI is the first market-based regulatory program in the U.S. to reduce greenhouse gas emissions. Participating states collectively set a cap for carbon emissions allowed from the power sector, and sell these through auctions. Proceeds are then invested in a variety of ways – determined by each state – and typically include energy efficiency, renewable energy, and other consumer benefit programs. Since the program's inception, it has contributed to a decrease of 33% in carbon emissions. The infographic below features the key elements and impacts of the program through 2014.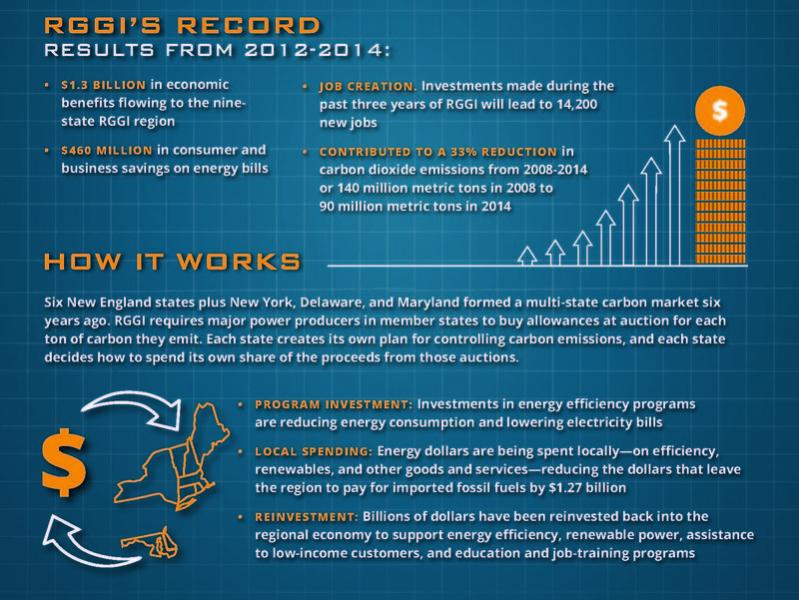 The report also found that RGGI has helped keep more dollars circulating in the local economy, as the amount of money sent outside the region to pay for imported energy has dropped. RGGI reduced dollars flowing out of state to pay for fossil fuels imported from outside the region by over $1.27 billion, from 2012-2014. Meanwhile, the states' use of RGGI auction proceeds has boosted the purchase of goods and services in the regional economy, for everything from solar panels and insulation to engineering services for energy audits to labor for efficiency retrofits.
Barr joined a diverse group of funders to support this report, including the Merck Family Fund, Energy Foundation, The Thomas W. Haas Foundation at the NH Charitable Foundation, Sandy Buck, Fritz and Susan Onion, Seal Bay Fund, Anna Marie and John Thron, Peter Lamb, and the Orchard Foundation. Last month, the Environmental Protection Agency proposed its Clean Power Plan, which aims to limit carbon emissions from power plants. As states across the country consider how best to respond, this new report makes it clear RGGI is worth a look, and that it is possible to meet emissions goals in ways that also strengthen local economies.
Learn more about the report and impact of the RGGI program by reading recent press coverage: