This year's Health and Environmental Funders Network's Annual Meeting focused on recent trends in policy and demographics, and also featured lessons learned from prominent voices involved in recent breakthroughs in science, social movements and democracy. Being relatively new to the world of environmental philanthropy myself, it was a great opportunity to gain an even clearer grasp on the pulse of environmental funders, especially while still reflecting upon some of the major themes and discussions drawn from the EGA's Fall Retreat. The tone of the meeting was refreshingly upbeat and solutions-oriented, and almost every session left us with implementable, strategic takeaways.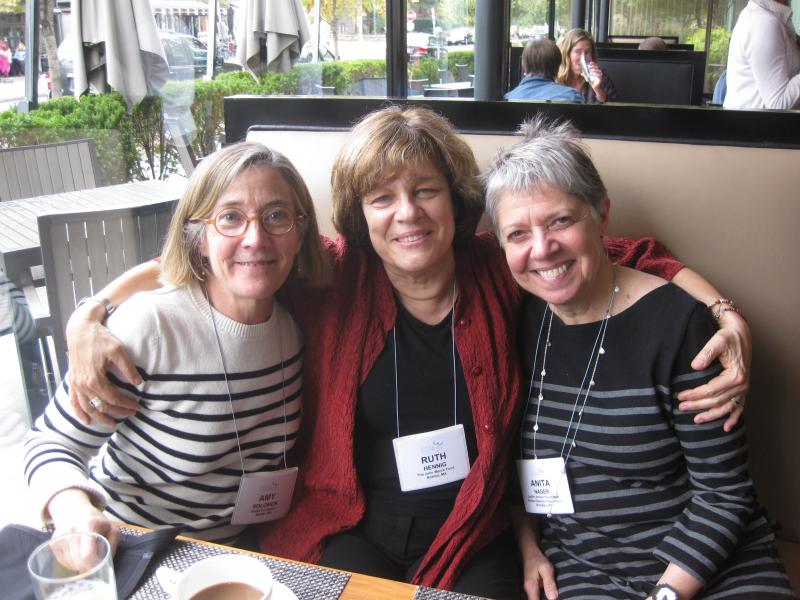 EGA Members at HEFN: Amy Solomon of the Bullitt Foundation, Ruth Hennig of the John Merck Fund and Anita Nager of the Jenifer Altman Foundation (Photo Credit: Andrea Levinson)
Tuesday's "Tools and Technology" session especially stood out to me, as it served as a response to many of the issues we covered on the first day. The presentation was solutions in action, and showcased the ingenuity of the experts that make them happen. The panel featured the bright minds of Heinz Endowment grantees Shannon Dosemagen from Public Lab and Illah Nourbakhsh from the Carnegie Mellon University Robotics Department.
I was already familiar with some of the amazing work Public Lab has been funded for from our Fall Retreat in New Orleans, and Shannon's presentation was spot on. Following was Prof. Nourbakhsh's fascinating presentation about the evolving utility of satellite imagery. Employing practical applications of many different platforms, including Google's Earth Engine, Time Magazine's Timelapse, and NASA's Landsat, the room was impressed to see how changes in geography, oceans, natural disasters, etc. actually occur over time. These different types of tangible tools and software are designed to be not only enlightening but widely accessible. Using these resources, Prof. Nourbakhsh's team seeks to employ hard data to create a visible, digestible narrative that can change public thinking on many of the critical issues we discussed in the other sessions.
In a similar "solution-based" vein, during the final session, HEFN Director Kathy Sessions shared a graphic showing a breakdown of EGA member foundations' "Secondary Issue Areas for Toxics", which was derived from EGA's newest installment of Tracking the Field.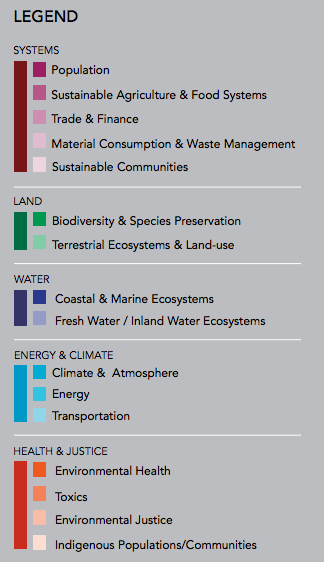 The graphic shows how funders that work on toxicology issues prioritize and fund other issue areas. This is just one example of how the Tracking the Field report, and its accompanying online tools, can be used to hone in on a specific metric and provide robust conclusions. (Check out the Tracking the Field report and the new interactive heatmap to make some data sets and conclusions of your own!)
As tools and technologies become increasingly accessible, it's important that the philanthropic community continues to pursue and invest in new ways to monitor the changing field. After seeing several presentations that discussed the problems of public perception and misconception about environmental issues, it was inspiring to also see how those ideas were being transformed into action.