2016 Funder Briefing on Freshwater
Funder Briefing on Freshwater November 29-30, 2016 Oxford Hotel | Denver, CO
Click Here for Updated Briefing Agenda
Click Here for Speaker Biographies
As background for this briefing, fifteen case studies were developed to explore recent collaborative initiatives related to freshwater issues. Click here to view Freshwater Case Studies - Exploring Effective Advocacy and Collaboration Apporaches. The publication will also be made available in person at the briefing.
---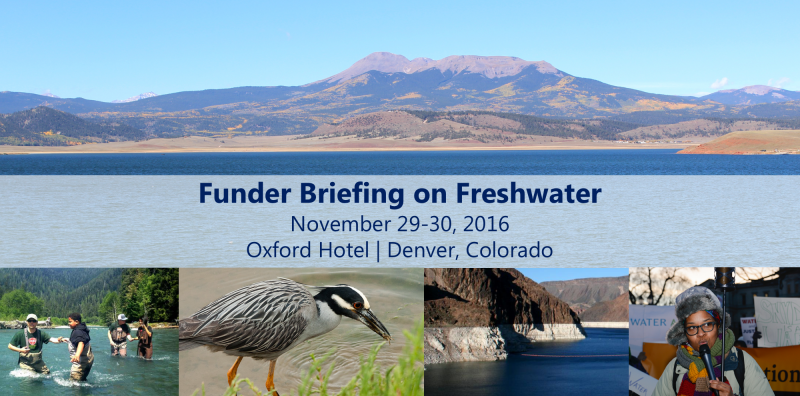 In response to the growing eagerness of local, regional and national funders to engage on freshwater issues in the United States, the Environmental Grantmakers Association (EGA), the Funders' Network for Smart Growth and Livable Communities (TFN), and the Consultative Group on Biological Diversity (CGBD) are hosting a funder briefing on November 29-30 at the Oxford Hotel in Denver, CO.
The briefing will provide an opportunity for grantmakers to share their experiences and to identify commonalities in their work on freshwater issues, regardless of differing geographic or topical foci. The briefing program will also explore ways in which freshwater funders might enhance coordination and collaboration.
See the Briefing Agenda for more detail on what we hope to cover over the course of the briefing. As water funders with varying levels of engagement on the range and depth of these issues, we will seek to explore potential commonalities on matters such as:
What kinds of wins and losses have we seen, and what are the common threads among them?

What kind of recurring capacity needs exist within the environmental community on freshwater issues?

What kind of community-based strategies have been successful that might be transferable to other places?

What kind of state-based strategies have worked and could work?

What federal policies (administrative and Congressional) would have widespread benefits on freshwater, and how well positioned is the community to advocate for them?

How are funders working in urban and metro communities as well as rural landscapes?

What kind of progress will keep trustees interested and engaged? How do we draw new foundation investment to the issue?

Are there ways in which to enhance on an ongoing bases platforms or venues for collaboration among freshwater funders and their grantees?

---
Please mark your calendars and plan to arrive on Monday, November 28, 2016, as the briefing starts on Tuesday, November 29 at 8:30 am. The briefing will adjourn on Wednesday, November 30th at 12:30 pm.
Transportation from Denver International Airport: The new Train to Plane departs every 15 minutes from the airport, about a 40 minute ride, $9, and deposits you at Union Station just steps away from the Crawford and Oxford Hotels.