Annual Fall Retreat
**2017 EGA Fall Retreat will be held September 25th-27th in Seattle, WA**
---
Thank you to all who joined us at the 2016 Fall Retreat.
We hope you gained new knowledge and inspiration, and that you were able to connect with many friends, new and old. The EGA community encompasses a remarkable collection of people; we feel grateful that so many of you joined us to share your ideas and stories.
---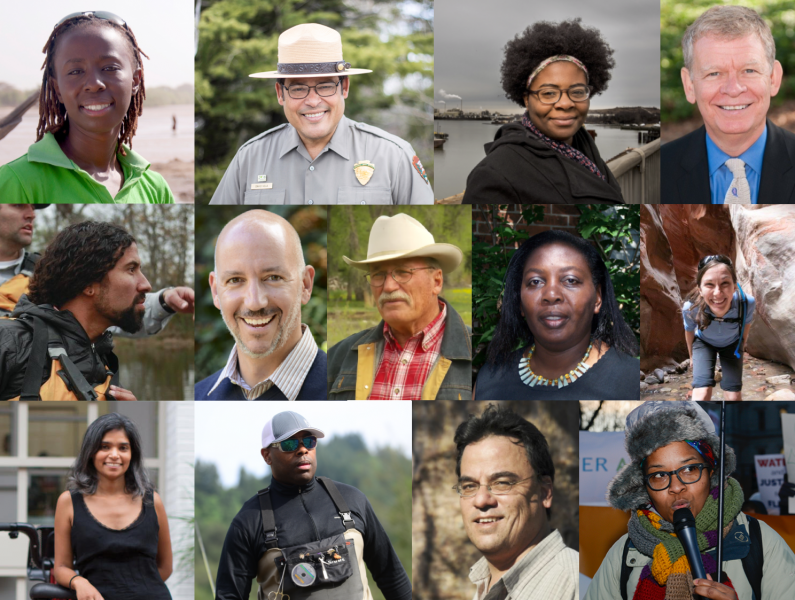 In case you missed a session or feel inspired to dive further into their stories, a full list of speakers is available here. From top to bottom and left to right, mainstage speakers included:
Ikal Angelei, Founder of Friends of Lake Turkana and 2012 Goldman Prize Winner
David Vela, Superintendent of Grand Teton National Park
Destiny Watford, Free Your Voice and 2016 Goldman Environmental Prize Winner
Rene Henery, California Science Director of Trout Unlimited
Joe Sciortino, Executive Director of the Schmidt Family Foundation
Pat O'Toole, Ladder Ranch and President of the Family Farm Alliance
Dr. Dorceta Taylor, Professor at University of Michigan School of Natural Resources and Environment and the Director of the Environmental Fellows Program
Chelsea Rochman, Postdoctoral Fellow of Conservation at UC Davis
Keya Chatterjee, Executive Director of the US Climate Action Network
Chad Brown, U.S. Navy Veteran and Founder and Executive Director of Soul River Inc.
Serge Rajaobelina, Executive Director of Fanamby in Madagascar
Nayyirah Shariff, Community and Political Organizer for the Flint Democracy Defense League
Dallas Goldtooth, Indigenous Environmental Network (not pictured)
We would like to extend our heartfelt thanks to this year's incredible Retreat Program Committee. In addition, we are grateful to the Blue Sky Funders Forum for a very successful partnership at this year's event.
2016 Retreat Program Committee
---
For information, please feel free to contact us at (212) 812-4310 or ega@ega.org.