Annual Fall Retreat
Save the date! EGA's 2020 Fall Retreat will take place October 4-7 in Chicago, IL. Keep posted as the event approaches for more details regarding our 2020 gathering.
In September 2019 EGA members gathered in Napa, in community with one another and with local, national, and global change-makers. Throughout the Retreat, we dived deep on the intersectional issues of democracy, resiliency, and equity, and how they build and expand upon one another as we consider how to support environmental work.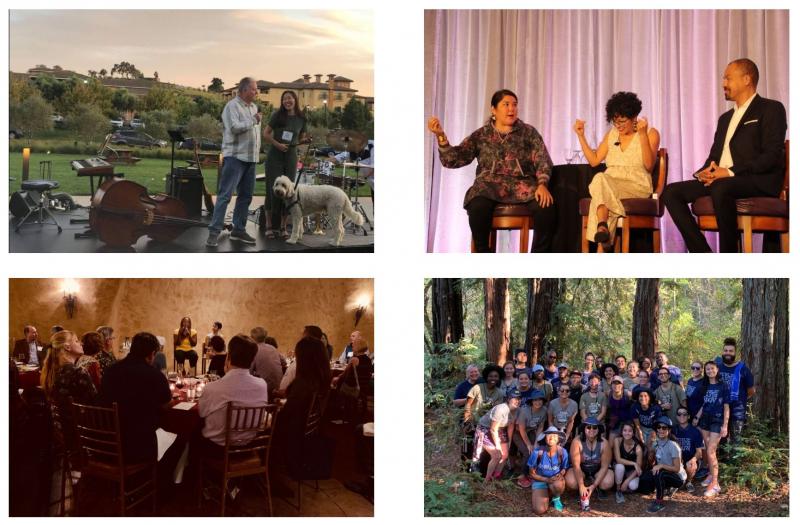 From the momentum of the Youth Climate Strike which took place just days before the Retreat began, we heard from both early leaders and young leaders on what environmental advocates across generations can learn from one another as we fight for a more sustainable world. We then engaged with ideas at the intersection of the environment and a healthy democracy, and how philanthropy can support these efforts. Finally, we left the Retreat with fresh ideas on the shifting narratives about our movement, to expand our imaginations of what is possible for a sustainable future.
As we met in Napa, we aligned with local leadership, including Indigenous leadership from Mishewal Wappo Chairman Scott Gabaldon, to ground ourselves in the challenges and complexity of the region. Arts and culture further advanced this understanding of the real stories of the Napa Valley, including through a poetry performance by Sonoma County Poet Laureate Maya Khosla whose visual and written work touches on the rejuvenation of nature after wildfires, and a screening and discussion of Harvest Season, a film by Bernardo Ruiz on the lives of the multigenerational Latinos, temporary laborers, and permanent residents connected to the production of wines in Napa and Sonoma.
From the North Bay to the remainder of California, we heard from Manuel Pastor, who helped us zoom out and consider not only California, but also the entire country. Manuel brought the perspective that 'as California goes so goes the nation' with reflections from his book State of Resistance learning from California in the '90s to inform what may be ahead for our country as a whole for environmental sustainability and social justice. Featured speakers Robert Reich and Heather McGhee continued the conversation of what our future holds on a national scale, sharing insights on the current most pressing threats to our democracy, and the urgency of our current moment, with a view towards frameworks that reimagine how to restore a healthy environment, before it's too late.
Check out the slide show below with some photo highlights from the 2019 Fall Retreat!