Affinity Equity Summit and Solidarity, Defense & Action Funder Briefing Recap
The 2018 Affinity Equity Summit and Solidarity, Defense and Action Funder Briefing was held on February 12th -13th, 2018 in Oakland, CA, and represented a remarkable collaborative effort among more than 30 affinity partners. Co-sponsors organized this two-day gathering to both connect across the sector on shared equity goals and to join with funders to strategize on work underway to protect people, place and planet. Each event was inspiring, and together they represent a forward-thinking moment where our field came together across identity, geographies and issues to learn from each other, and consider ways forward for collective action.
Thank you to all of those who joined us in Oakland – see some the highlights in this slideshow, and read on for brief recaps from each day: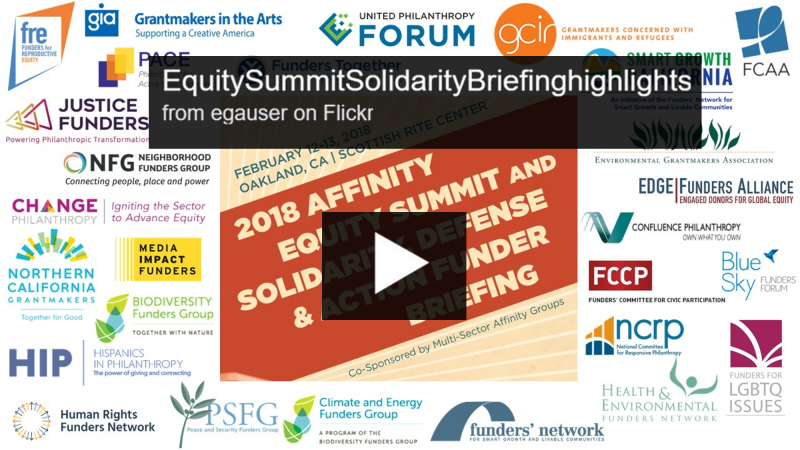 Affinity Equity Summit (Day 1)
During the Summit, board members, executive directors and staff from multi-sector affinity groups identified areas for strategic collaboration on specific issues related to each other's equity initiatives. Ultimately, six action areas emerged from this Summit, with different affinity partners supporting efforts to push them forward: 1) Census 2020, 2) Trustee Gathering, 3) More Assertive Civic Engagement, 4) Data for Change, 5) Connecting Across Fellowship Cohorts, and 6) Cross-Sector DEI Coordination. More on these areas to come!
Affinity groups shared their equity goals with one another here and began to identify ways to strategically align those initiatives.

We then mapped out where our equity initiatives are on the spectrum of diversity, inclusion, equity, and justice before coming together for a collaborative group exercise.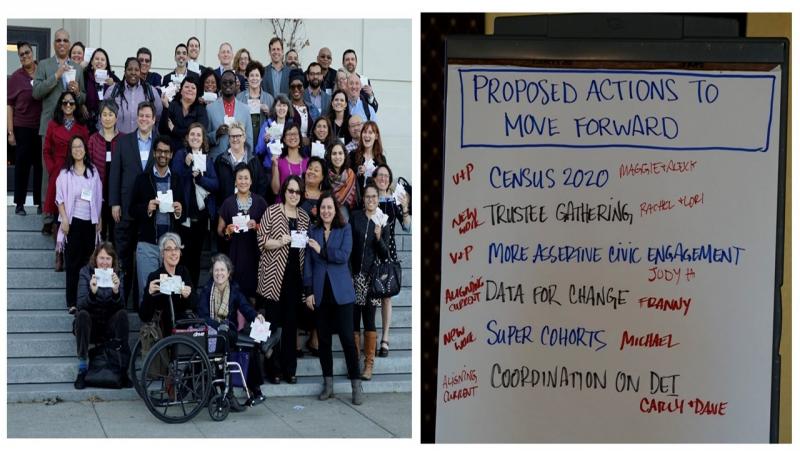 Each of us left the Summit with a set of action areas for next steps and a greater commitment to strengthening equity in our field across sectors.
Solidarity, Defense & Action Funder Briefing (Day 2)
We rocked the house in Oakland with over 200 funders and affinity leaders and an amazing array of bold speakers participating in the Briefing. Participants left feeling inspired, with new connections and new concepts on solidarity defense and action across immigration, environment, gender rights, and democracy. The Briefing offered an opportunity to get to interact with funders and affinity leaders across a range of sectors that do not normally interact with one another.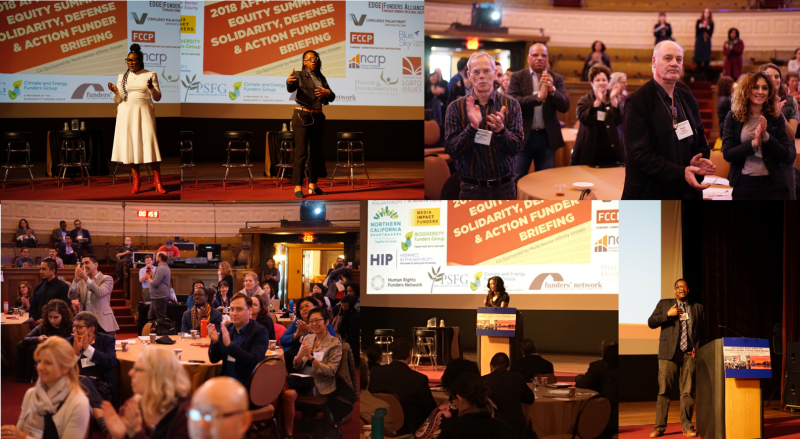 Our opening and mid-day speakers jolted us into action with a reminder of what's at stake for people, place, and planet. Alicia Garza, Lateefah Simon, Wei Lee, Aimee Allison, Nikki Fortunato Bas, Rodney McKenzie, and Dave Metz covered everything from intersectionality to voting rights to pre-emption and more.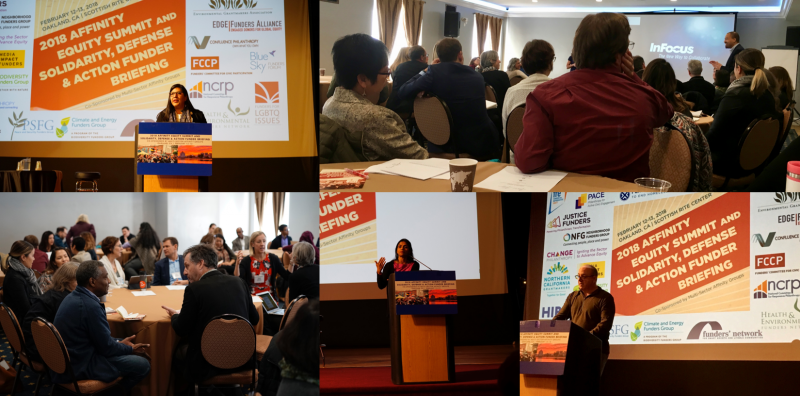 We returned with another set of powerful speakers who expanded our lens to the rural voices, #MeToo and #TimesUp, Puerto Rico, and threats to our democracy and civic participation at home and abroad. Funders explored each area further during the breakout sessions.
Here are some of the tweets that came in as funders and affinity leaders shared their takeways and enthusiasm for cross-sector collaboration: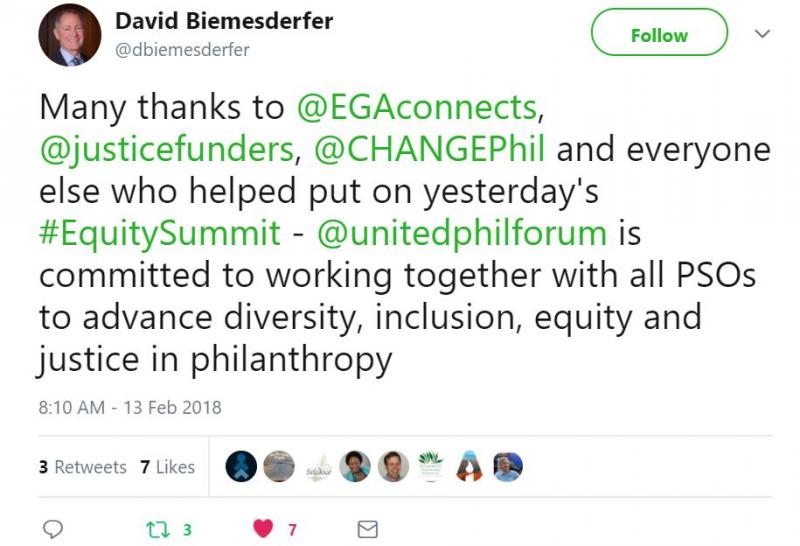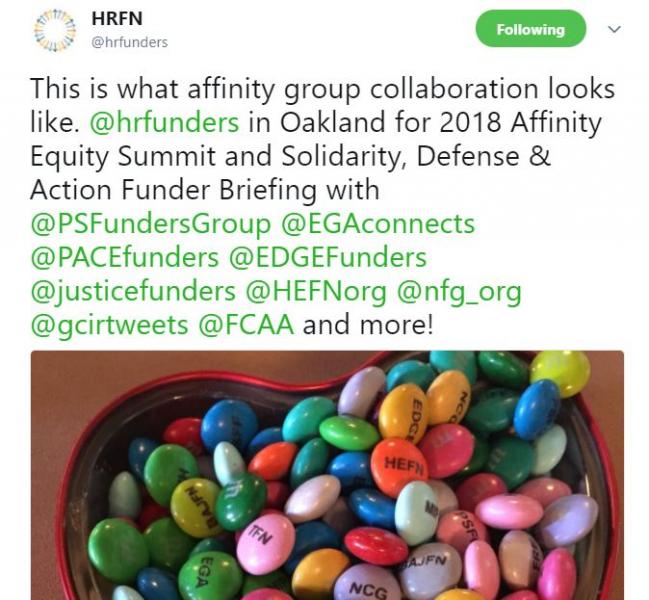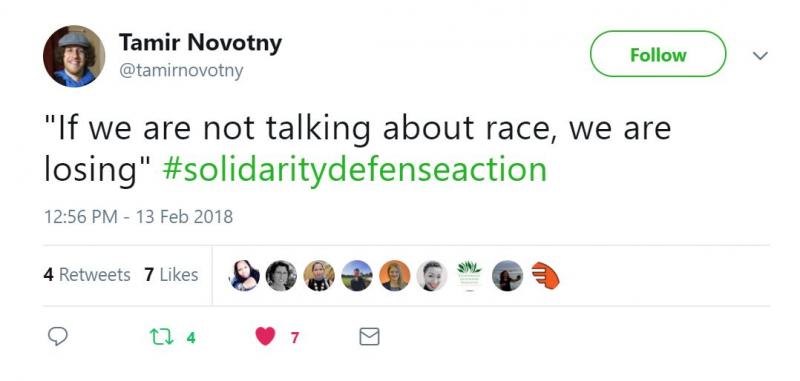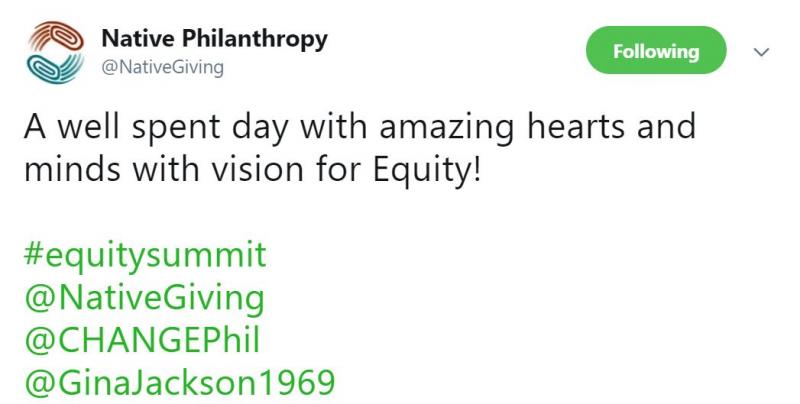 Thanks again to everyone who joined us in Oakland. We look forward to working with all of you to follow-through on our shared action items in the months ahead.
The Affinity Equity Summit and Solidarity, Defense and Action Funder Briefing Co-Sponsors:
Biodiversity Funders Group, Blue Sky Funders Forum, California Criminal Justice Funders Group, CHANGE Philanthropy, Confluence Philanthropy, EDGE Funders Alliance, Environmental Grantmakers Association, Funders' Committee for Civic Participation, Funders Concerned About AIDS, Funders for LGBTQ Issues, Funders for Reproductive Equity, Funders' Network for Smart Growth and Livable Communities, Funders Together to End Homelessness, Grantmakers Concerned with Immigrants and Refugees, Grantmakers in Arts, Health and Environmental Funders Network, Hispanics in Philanthropy, Human Rights Funders Network, Justice Funders: Powering Philanthropic Transformation, Media Impact Funders, National Committee for Responsive Philanthropy, Neighborhood Funders Group, Northern California Grantmakers, Peace and Security Funders Group, Philanthropy for Active Civic Engagement, Smart Growth California, and United Philanthropy Forum.