Reflections on Earth Day: Shared Meals, Shared Learning and a Shared Vision
This Earth Day, my dreams and visions are of China. One month ago today, EGA led an adventurous and globally diverse group of grantmakers on an unforgettable learning tour of China. And I can't stop thinking about and visualizing places, stories and people from that journey.
I'm still processing what we saw and experienced, but there is no doubt that I have a renewed approach towards our shared mission of helping to support a sustainable world.
While there were plenty of moments of clarity and pure joy, multiple experiences also proved confusing, contradictory and downright scary given the apparent scale and scope of challenges we face on a global level.
Through intimate glimpses into the environmental state of China, our adventure affirmed how clearly our future is tied to what happens 7,000 miles away, and how small the planet really is. From breaking bread with sustainable ag activists in February in Detroit to sharing dumplings in a space operated by Beijing County Fair local food organizers in China, the hope and fresh action underway in both these small spaces was palpable.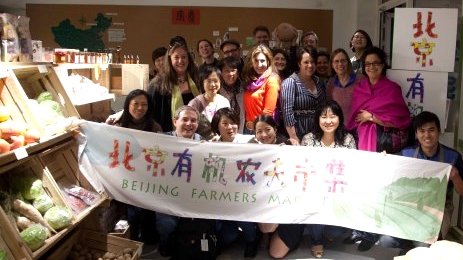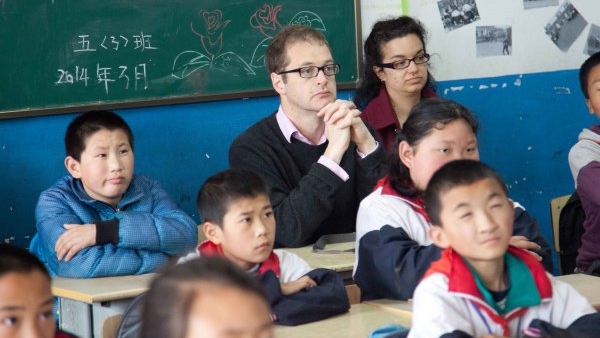 Shared experiences
The trip provided numerous wonderful up-close moments and opportunities to observe projects funded by numerous EGA members and new Chinese philanthropies. These experiences included everything from visiting pigs at bio mass pilots in rural eco-communities to witnessing thriving environmental education initiatives underway in Shanghai. We dug in deep on the big challenges ahead on air pollution, and discussed a transition to green energy whilst choking on the smog of Beijing.
In the last days of our trip, we visited the world's largest port near Shangai. We were brought to a collective silence staring at the enormity of our appetite for 'stuff', and its ramifications for the planet.
One of the highlights of the trip was our visit with the SEE Entrepeneurs and the Vantone Foundation, who were involved with the delegation of Chinese philanthropists that joined EGA last Fall, with the support of the Rockefeller Brothers Fund. It was inspiring to know that in part, because of our shared learning, a Chinese EGA is being organized, and that many of the questions they are asking as they evolve are the same questions we grapple with two and a half decades later.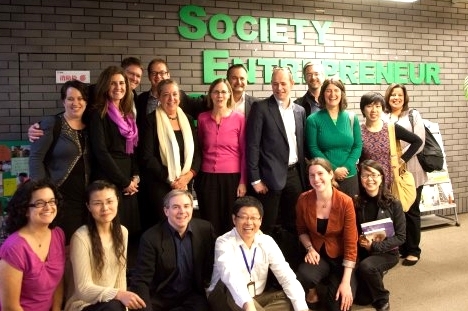 The importance of a global perspective
Having the Australian Environmental Grantmakers Network and the UK Environmental Funders Network participate throughout the China Distance Learning Program deepened our discussion, and showed how global collaboration is both possible and already underway. The Distance Learning Program's global diversity also helped to affirm EGA's impact on a global scale - I don't think it's debatable anymore whether our work should include a significant global lens.
And I didn't come to EGA with that view. If anything, I was a local girl who liked keeping my feet on the ground and my action plans local and achievable. But the rapid globalization of our economies and social networks that have occurred in the five years I've had the privilege of serving this community has opened my eyes to the necessity of EGA working on a global level. This is a thread we will continue when we seek to explore the theme of "from pueblo to global" this Fall at our Retreat in New Mexico.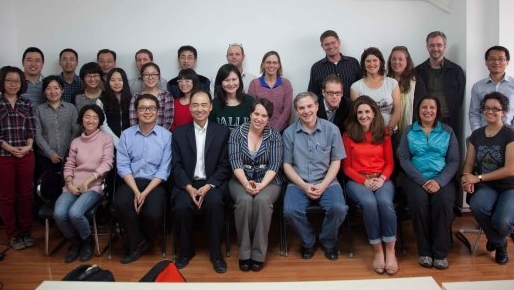 We didn't find all of the answers in China - we actually left with more questions. But we left hungry for more interaction, more collaboration and more shared learning. That, I think, is my modest takeaway from this trip to share, on this day when we reflect and appreciate our shared planet. We shouldn't pretend to have all the answers or the perfect strategies to easily fix what we've undone in our ecosystem, but we should have the passion and the connectivity to face what is next, together. For me, "together" now stretches from upstate NY to the corners of China.
Today, I share pictures from that journey with you all, hoping it whets your appetite to learn more about the trip and our organizational efforts to deepen EGA Global engagement when we all coalesce this Fall. Most of all, I express deep gratitude for all who shared meals with us, hosted us and organized this special journey, a 12-day trip that will live on through how we at EGA evolve to approach and implement our mission.
Rachel Leon, Executive Director, EGA