Cohorts Rise Up for People, Place, Power and the Planet this Earth Day
By Rachel Leon, Executive Director, Environmental Grantmakers Association and Dennis Quirin, President, Neighborhood Funders Group
On the 49th anniversary of the first Earth Day, the intensity of the first Earth Day is back with youth striking across the globe to protest climate change. Young activists like Greta Thunberg, Vanessa Nakate, and Isra Hirsi have spoken out about the damage older generations have caused to the planet, and are demanding that people in power take action to combat climate change. Scientists are affirming their concerns, offering new opportunities for working across generations to face the challenges ahead.
The only way for us to get to climate and social equity is by creating more spaces for collaboration and collective action. For philanthropic networks, fellowship programs are an effective tool to spur new thinking and strategies, to engage emerging and current leaders and spur cross-foundation collaboration, and to embrace bold collective action — which we believe is essential in this time of change. Both the Environmental Grantmakers Association and Neighborhood Funders Group offer fellowship programs focused on building and supporting more inclusive social and environmental movements that center those who are most impacted by injustice. We focus on people, place, power, and the planet to shift the philanthropic sector towards equity.
This summer, the Environmental Fellows Program (EFP), a partnership of the Environmental Grantmakers Association (EGA)'s and University of Michigan's School for Environment and Sustainability, will welcome its fourth cohort of fellows This program supports the career development of a new generation of leaders and decision-makers in environmental philanthropy and in the environmental field. With an emphasis on the diversity of the sector, EFP is helping the environmental movement realize a more equitable future by creating bridges to introduce trained, passionate future leaders to the field.

By engaging this base through fellowship programs like EFP, these emerging leaders fill the gaps that currently exist within philanthropy, while introducing a new and fresh perspective on the future of the movement, with mentorship by experienced funders. This program has already witnessed early successes in meeting these goals, with program alumni joining the staffs of environmental foundations and affinity groups, and the recognition of their achievements connecting the environment and justice on a public platform. Earlier this year, EFP alumni Adrien Salazar was featured in the Grist 50 for his work on equitable climate policy in New York state, and since his fellowship placement at the Sustainable Economies Law Center, he has served on their board of directors.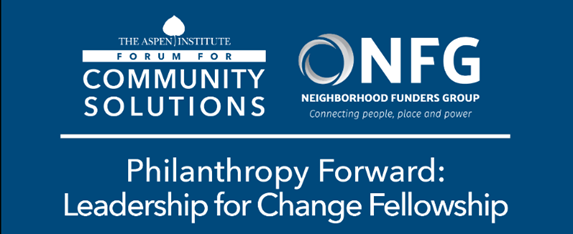 This year, Neighborhood Funders Group (NFG) introduced the second cohort of the Philanthropy Forward: Leadership for Change program, in partnership with The Aspen Institute Forum for Community Solutions. Philanthropy Forward engages foundation CEOs supporting grassroots power building, racial equity, and social justice by providing opportunities to build deep relationships across foundations, learn what peers are grappling with, and work together as strategic thought partners on the sector's most challenging issues.
This growing network of visionary CEOs is a dedicated space for leaders to organize together and boldly advance the transformed future of the sector, aligning to build a financial engine for social change. The Philanthropy Forward program engages top leaders in the sector and helps further their work on equity and social justice. The fellowship is an example of how peer networks can align leaders and institutions in developing new thinking on equity in the philanthropic field.
The kind of deeper collaboration we are experimenting with in our respective fellowships models the opportunity and impact that is possible when funder networks are able to collaborate more deeply. Between these fellowship programs, there is strength in creating avenues for cohort connectivity, and for peer learning from one another during and beyond the fellowship period. Between these two programs, we offer both new pathways for emerging changemakers and bridges for existing leaders to amplify their efforts.
Reflecting on the missions and experiences of our programs this Earth Day, it is clear that we need to carry forward our commitments to people, place, power, and the planet to answer the next generation's call to action, and seize our opportunity to curb the impacts of inequality and climate change. As our cohorts grow, we will continue our shared learning and action on equity. These programs inspire hope, encourage change, and support a field that is more reflective of the people and actions we purport to serve, an intervention in the field that we hope will infuse philanthropy practices at-large.
Rachel Leon is executive director of the Environmental Grantmakers Association, a member network that promotes effective environmental philanthropy by sharing knowledge, fostering debate, cultivating leadership, facilitating collaboration, and catalyzing action.
Dennis Quirin is president of the Neighborhood Funders Group, a network of national and local grantmakers throughout the U.S. by bringing together funders to learn, connect, and mobilize resources with an intersectional and place-based focus.