Environmental Fellows Program
The Environmental Fellows Program (EFP) is a national fellowship that began in 2016, seeking to diversify the environmental and conservation philanthropic sector by supporting the career aspirations of graduate students from traditionally underrepresented groups. The fellowship is offered in partnership with the Environmental Grantmakers Association (EGA) and the University of Michigan School for Environment and Sustainability Diversity, Equity, Inclusion Office.
Fellows are placed for 12 weeks during the summer at a philanthropic foundation or one their grantee organizations with a stipend of $11,000, gaining exposure to on-site mentoring, pre-program career development and diversity workshops throughout the fellowship. Their fellowship culminates with EGA's Fall Ratreat, where both fellows and funders are able to connect and broaden their networks.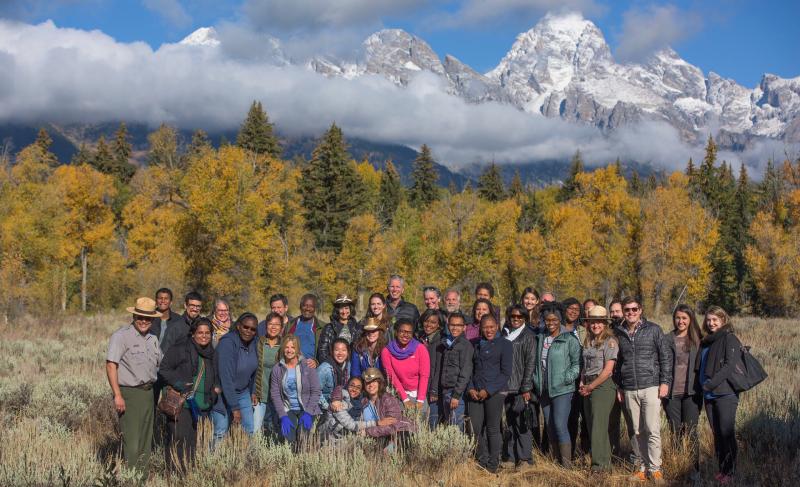 Fellows at the EGA Fall Retreat
Building on the success of our inaugural 2016 cohort (pictured above with EGA staff and board and NPS staff at the Grand Tetons), we brought the 2017 fellows front and center on the main stage at EGA's 2017 Fall Retreat in Seattle. For the 30th anniversary of EGA, fellows gave our members a snapshot of their work and the issues that philanthropy should be paying attention to in the future.

To learn more about how to apply to the Environmental Fellows Program and read our fellows blogs please visit the University of Michigan's website here.
If you are a foundation that is interested in sponsoring a fellow, please contact Laura Lemus.